How you can start a career in a different field without "experience" — tips that got me job offers from Google and other tech giants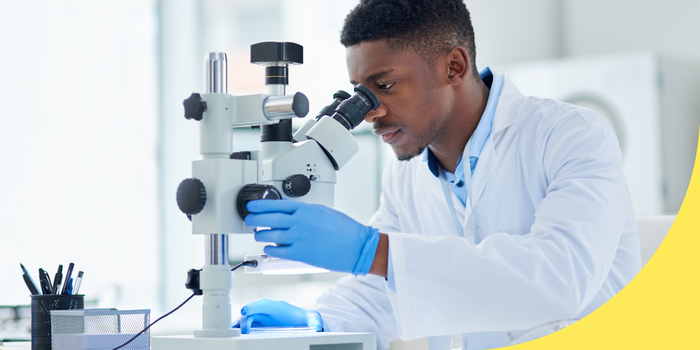 Last week I talked about how you can land a 6-figure job in tech with no connections by generating referrals from people inside those companies.
The article found its way in front of a lot of people, and they had a lot of questions. The most common questions focused on one thing: experience.
Many people find that their current career isn't living up to their expectations. They want to change paths, but they don't have any experience in another field, and no idea where to start.
In this post I'll show you how to quickly gain experience in any field, as well as how you can leverage that new experience to land job offers in that field.
I personally used this strategy to transition from the medical field — where I was working in hospital operating rooms — to the tech industry, where I received offers from Google and other tech companies (along with a 200% raise).
Myths about things you DON'T need when switching fields
Before we dive in, I think it's important to address a few "myths" about changing industries:
You don't need an extensive network of contacts. In fact, you don't need any contacts at all — you can make them all on your own.
You don't need a degree in the field you want to switch to. Perception is reality, and results speak volumes when it comes to perception. They are worth more than any degree or previous job title. More on that later.
You don't need money. Everything you need to know can be learned for free. In fact, I'm going to show you how this process can actually help you generate a second stream of income.
Next, I'm going to outline the exact steps I used to land a job in a totally different industry so you can make it happen for yourself.
Part 1: Painting a picture of the perfect candidate
The good news about entering a completely different field is that you are a blank canvas. You can choose your skills and mold yourself into the perfect candidate.
What does perfection look like?
In order to become the ideal candidate, we must first understand what "ideal" looks like in the eyes of the people who will be hiring you. There are two ways to accomplish this:
Job descriptions
Job descriptions are essentially resumes in reverse. They spell out the exact skills you need in order to be successful in that particular role. That sounds obvious, but we are going to be looking at this from an atypical lens.
Let's take a look at this Growth Marketing Analyst role that I grabbed from Facebook's site:
Responsibilities

- Leverage data to understand our products in depth, identify areas of opportunity, and execute projects to drive growth and engagement of Facebook users.

- Drive projects focusing on new user growth, mobile usage, and revenue — working closely with design, product, engineering, and data teams.

- Work both on core Facebook products like news feed, notifications, and mobile, and offsite marketing channels like SEO, SEM, and email.

- Use tools like Hadoop/Hive, Oracle, ETL, R, PHP, Python, Excel, MicroStrategy, and many other internal tools to work efficiently at scale.

Minimum Qualifications

- BS or MS in Engineering, Computer Science, Math, Physics, Statistics.

- 1+ years experience with SQL.

- 2+ years of quantitative or statistical analysis experience.

- 1+ years of experience managing a project.

- 1+ years of experience in marketing, advertising or growth.

- Ability to process and analyze data sets, and interpret them to make business decisions.

- Communication skills and ability to manage a project or product.

Preferred Qualifications

- Software development experience.

- Internet Marketing experience.
What do you see here? What does the ideal candidate look like? What do they need to get hired?
My guess is that you're thinking, "Ok, they need a degree in computers or math. Then they need at least two years of experience coding and managing projects at a company."
Well, here's what I see:
Facebook is looking for someone who understands how to identify trends/patterns within big data that will have a direct impact on revenue. That person also has enough knowledge of programming to efficiently make those discoveries and present them in a simple, concise fashion.
The main issue a lot of people have is that they think the only way to get "experience" is to work at company or have fancy degrees. This is one of the biggest myths when it comes to job searching.
In order to understand it, let's take a step back and think about why companies hire.
They want someone who will come in and have a large, positive impact on their bottom line.
Someone could have a PhD in Computer Science and be fluent in all of the programming languages mentioned above, but if they lack the ability to clearly convey results, the company isn't going to benefit.
On the other hand, someone who may not have a degree or total fluency but understands how to find impactful insights and presents them in a concise, actionable manner is extremely valuable.
Your goal is to become that second person.
Informational interviews
In addition to combing through job descriptions, it's equally important to get in touch with people who work in the industry.
They will be able to help you prioritize the skills you found in those job applications, as well as give you some inside info on the intangibles (nuances of the hiring process, putting you in touch with their contacts, etc.).
I've found that the best way to make this happen is by leveraging LinkedIn's advanced search filters.
You can search for people at specific companies, with specific titles. If you have LinkedIn Premium, you can even search for people who used to work in your industry and now work in your target industry — or even at your target company.
Then you can use this email script to reach out:
Subject: Quick Question
Hi [Name],
My name is Austin and I currently work at Cultivated Culture. I was browsing through LinkedIn and came across your information — I hope you don't mind me reaching out of the blue here.
I saw that you have extensive experience in Facebook's Growth Analytics vertical and I'm very interested in learning more about that space. I would love to have the opportunity to run some questions by you, as well as tap into any advice you may have given your knowledge of the industry.
I know that your time is extremely valuable so please don't feel to need to respond in depth. If you do have 5 minutes to chat, I would really appreciate it.
Best,
Austin
When they agree to a meeting, you'll want to prepare some questions. They should focus on:
Identifying which skills are the most crucial for performing daily activities (this will allow you to prioritize)
Providing some background on how that person got to where they are (you'd be surprised at how many people came from other industries)
What they would do if they were in your shoes — trying to get this job with little to no experience in the field
Here are those bullets in question form to help get you started:
I've been doing some research and it seems like [Skill 1] — [Skill 3] are common in the space. Which of these do you think is the most crucial to success?
I was looking through your LinkedIn and saw that you came from [Previous Role/Company]. How did you initially get involved in this industry and how did you end up at [Current Role]?
Let's say you were in my shoes — you're new to the industry and don't have too much experience. How would you go about getting your current job? What specific steps would you take?
Bringing It All Together
Now you have an understanding of the skills that you need, where they stand in terms of priority, and a roadmap from someone who has/had the role you want.
Next, you need to build a foundation with those skills and use them to generate results that directly align with the company's goals for that role.
Part 2: Nailing The Basics (On The Cheap)
Over the next month or two we're going to focus on building a rock solid understanding of the basics needed for the skills you identified above.
For now, the best ways to do this are by reading books, taking courses, and creating a sandbox you can use to test your knew knowledge.
Reading Up (For Free)
Books are a fantastic way to understand the basic concepts of a specific subject. They also happen to be very easy to get for free.
Remember that public library your parents wanted you to check out when you were a kid? It's actually still there! Amazing, right?
The good news for you is that even public libraries have caught up with the times and now carry ebooks. You can borrow them for free like any other book, but they will be sent directly to your phone so you can read them anywhere, anytime. All you need to do is install the Kindle app (which you can get for free for iOS and Android).
In order figure out which books to read, I would Google "best books on [subject]" or go ask some folks on Quora.
Taking Courses (For Free-ish)
While books are giving you the 30,000 foot view of your topics, courses will help you figure out the nitty gritty. They are a better way to learn the actual skills because they tend to be interactive and are updated regularly.
One of the best resources for our purposes is Coursera. Coursera aggregates courses from the best professors at the best schools in the country (I'm talking Princeton, Stanford, Harvard — they don't mess around).
These courses are fantastic because they are structured like an actual course you would take in college. They have videos, but they also have tests, projects, and forums where students can collaborate. This is key because it helps make the course "sticky" due to the fact that you are committing to all the above rather than just watching a few videos.
Best of all, at the end of the course, you can receive a certificate stating that you passed the course. It will even have the seal from that university on it! It does cost ~$49 but it's well worth it because you can put that right on your resume:
Subscribing To Industry Blogs & Newsletters
Next, you're going to want to sign up for some newsletters.
Blogs stay in business by having the highest quality, most up-to-date information and getting it out there as quickly as possible. This is the easiest way for you to stay on top of current events in the industry while picking up tons of knowledge along the way.
You can find them using the same method you used to find the books — Googling and hitting up Quora.